1Hotel Web Design
Responsive Web Design
Drive more business via mobile connection

As smart phone and tablet adoption rapidly increases, so does the importance of mobile-friendly websites. If SEO is a core component of your digital marketing strategy, having a mobile-friendly website is becoming essential.

Google has recently announced that websites that are employing Responsive Web Design will have positive ranking factor, especially search results when using smart phones and/or tablets.

1HotelWebDesign offers Responsive Web Design function that not only makes your website look good, easy to use regardless of the device, it also helps improve your ranking on search result. Here are some good reasons why your website needs Responsive Web Design
Supporting the Multi-device user


We live in a world where our sites are not only being visited by a variety of different devices and screen sizes, but the same customers are returning to our sites at different times using different devices. This means that, to best support their experience, our sites must work well regardless of which device they may be using at a given time. The same content that they have access to on one device must be present when they return on other devices to ensure consistency in the information that they are seeking. Unlike, mobile dedicated sites, some information may be omitted, which may be risky and not consistent.

One site for all


It is hard enough to update one website. If currently, your site employs multiple sites, i.e. desktop, mobile dedicated, tablet dedicated, it is becoming more challenging to try and update information for all multiple sites. This is why a responsive website is much preferred over separated websites.

Improved Search Engine Rankings


Google has long recommended using responsive web design to support different devices and screen sizes, but the search engine took this recommendation a step further (announced on 21st April 2015) when they began adding a "mobile friendly" label to websites that used this approach when those sites appeared in a search results page on a mobile device. By rewarding sites that are mobile-friendly, Google is effectively penalizing those that are not, making responsive web design an important factor is SEO (search engine optimization) strategy plans.

Future scalability


One of the best things about a responsive website is that this approach gives you the best chance to support newer devices and screens in the future. Responsive sites are fluid, scaling up and down as needed to best fit the screens being used to access the site.
Web Design
1hotelsolution.com web development team consists of experienced web graphic designer, web programmer and contents designer that are specialised in hotels, resorts, hospitality service industry. We are proud to have designed more than 100 websites and the number is increasing.

Our web development service comes with one year hosting, which includes email service and web service with full after-sales support for web updates. Our price starts from only THB 40,000.

Our website service will have a platform ready for our online reservation system or booking engine (if interested) and this carries "zero" set up fees. Please visit for more information on our online reservation system or booking engine.
Why 1hotelsolution.com?
We have more than 12-years of professional web design / development experience, particularly in hotels / resorts business field.
We design our website to follow search engine algorithm / code of practice (SEO) so that our website can rank better on key search engines, such as google and yahoo.
Our website design is user-friendly and will be designed towards targeted audiences.
Our one-stop service includes both domain name registration and web hosting service.
We have after-sale service that will ensure that our customers are well looked after.
We have a service that help you update your website within 24 hours to keep your mind at peace.
Our design focuses on quality and trend
For optional service, we also provide a back end system that is easy to manage and easy to use. This powerful tool provides you with an easy way to update / edit your own website without having to pass it to a web designer / programmer to do.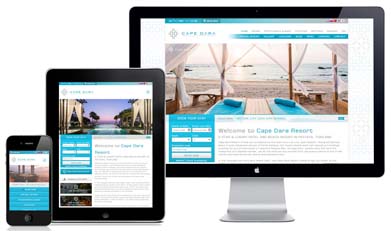 1HotelWebDesign provides an effective website experience for users. Contact us for FREE consultant and special quote on your hotel's website improvements.
Terms & Conditions
Design website exclude photography service, contents write up, and image reproduction.
FREE web site maintenance for first year (minimal web updates, major changes to the website will incur extra charges)
FREE web hosting and email for first year.
FREE Web Statistics Report
FREE Web control panel – can check email from browser anywhere in the world
Analyse your site and come up with meta tags to be embedded onto each web page. This will ensure that search engine such as google / yahoo and MSN recognize your site better and gain better ranking on some certain keywords / phrases.
Additional page 800 baht/page/language
Dynamic content management
This allows you to update your own web contents including contents and images at any time you want through our backend system. This module helps minimize the time you have to contact your web design company to update your website. Your staff can do that through a few simple steps from our secured backend system.

For more information or request for a special quote, please click here.
Our main focus from day one is hotel and lodging industry and this has not changed ever since. Below are some of our hotel partners, ranging from independent properties, small boutique hotels, boutique hostels, luxury serviced apartments, corporate hotels as well as local chain hotels.