1-Hotel GDS/CRS Solution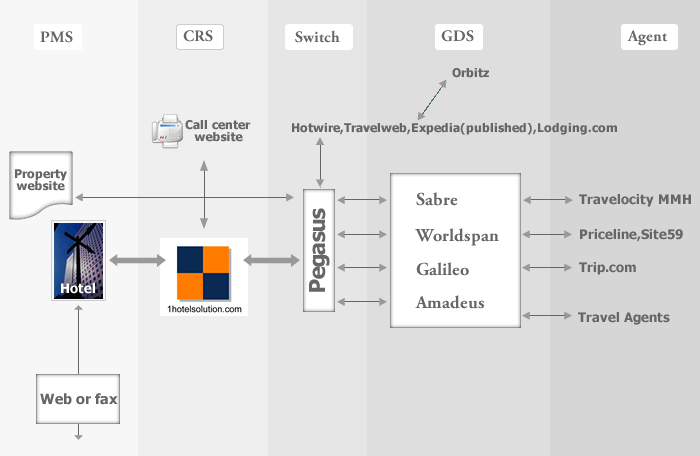 What is GDS?
Today the travel marketplace is a global arena with hundreds of thousands of buyers (travel agents) and sellers (hotels, resorts, airlines, car rental companies) working together to reserve and deliver the services to the ultimate buyer - the traveler. Increasingly,
GDS or Global Distribution System
is known for a Global Electronic System, which connects users and suppliers.
GDS provides
instant access to the supplier's information (i.e. hotels) with real-time function. Many major web portals are also connected to
GDS
, including Expedia.com, Orbitz.com, Travelocity.com and priceline.com to name a few.
Why is it important to you as hotelier?
There are as many as 100,000+ web portals connected to
GDS
with over 600,000+ travel agents around the world have access to
GDS
. The greatest benefit of
GDS
to you as the hotelier is that you can obtain the largest exposure to the online market whilst maintaining easy control of all information.
What is the technology we use?
To you as the supplier,
GDS
is connected via the internet. You can update room availability, your hotel's information, and room rates etc. via the internet at any time you like or you can send us the details and we help you update them on to the system. To web portals/agents,
GDS
is provided by the following key
GDS
providers, i.e. Amadeus, Galileo, Worldspan and Sabre.
Who are currently using GDS to find and book hotels?
There are currently over 600,000 travel agents worldwide who have access to
GDS
. On top of that, there are hundreds of thousands of web portals that use
GDS
to provide information on hotels, airlines, car rentals, etc. For a quick look at a list of travel agents/web portals currently using
GDS
,
click here
.
How much does it cost if I want to establish a GDS connection?
There is no one-time set up fees. There is only monthly maintenance fees, which is payable 12 months in advance after signing the contract. This monthly maintenance fees will cover our service in setting up your hotel data in the
GDS
and help updating your hotel's information once your hotel is LIVE. Furthermore, we help you deliver your confirmed bookings, amendments and manage your packages to be sold on the
GDS
.
What about the running cost?
On each of materialised bookings, you will be liable for 10% for travel agent + 7% per net reservation plus THB 240 per booking. To obtain a quote or to be contacted by one of our consultants
click here
.